The basic principle of contouring is to play with chiaroscuro (a game of shadow and light) by putting in the shadows the features that one wishes to diminish or hide, while illuminating those that one wants to enhance or enhance. This technique allows, for example, to camouflage dark circles or to tan the complexion with a bronzer: all these gestures finally very daily define, among other things, this method of makeup that has as many different techniques as followers.
The aim is to maintain a natural look that can be adopted in everyday life with easy-to-achieve make-up. So we forget the clownish and complicated geometric shapes seen in the demonstrations of bloggers on the Web and we simply have fun embellishing his attributes with illuminator and bronzer. Much easier than it sounds, especially if you train a little. Be aware that there is no one-way rule: your contouring will be mainly based on the shape of your face and the desired rendering. It can be light and take only a few seconds every morning, for a good looking effect assured!
So here are some application tips for perfect contouring
1. Start your complexion systematically with your favorite moisturizing day cream. The one in EVEN is particularly suitable for you and makes an excellent make-up base.
2. Then, opt for a BB Cream (to illuminate while maintaining a certain transparency) rather than a foundation (too opaque and too covering). Place a few touches of BB Cream on your nose, cheeks and forehead. Stretch the BB Cream out of your face with your fingers for a smooth make-up. Don't forget to go to the ears and finish by the neck, for an ultra natural effect!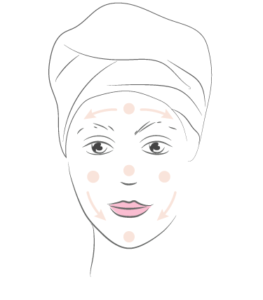 3. Then, have a  concealer a lighter tone than your skin tone, and apply it in small touches under the inner corner of the eye, around the nose, on the nasogenian furrows (the small folds around the mouth) and in the hollow of the chin. Then melt the material on your finger. These concealer keys will illuminate the shadows, which tend to increase when you are tired. The feedback on the EVEN Corrector to cover imperfections is excellent! 😉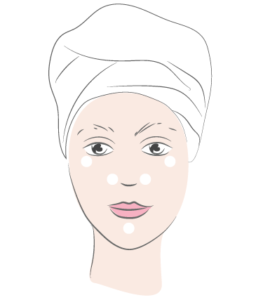 4. Lightly powder the whole with free or compact powder according to your preferences, this will mattify your skin and hold your base well, throughout the day.
5. Then choose a matte bronzer (be careful to choose one that doesn't pull on the orange) and apply it under your cheekbones to "dig" your cheeks slightly if necessary and under the chin. This is one of the key techniques of contouring.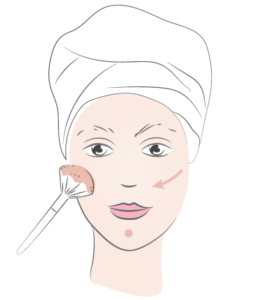 6. Then apply a lightly satin or pearly bronzer to the bulging cheekbones for a sunny effect.
Tip: If you applied too much, don't panic: just fade the color with a large clean brush.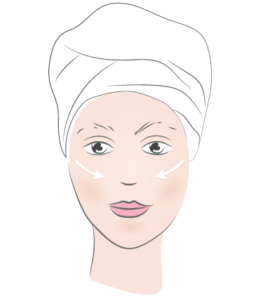 7. Finish with a slightly apricot or pink blush that you will apply by caressing your cheeks to add THE touch of peps to your complexion.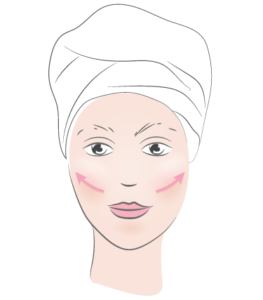 A little tip: a matte eyeshadow and light chestnut can also act as a shader. Conversely, a satin eyeshadow can be used to accentuate the touches of light on the nose stop or the top of the cheekbones (beware of iridescent blushes that can turn you into a faceted ball!).
And lo and behold, the first few times will take you a little longer than necessary but as soon as you have the help, this little ritual for your complexion will take you only a few minutes and will allow you to display a bright and fresh look on all occasions, and discreetly 😊
You are ready to face the day with a bright look, ideal to feel good and keep smiling!