Manic Panic Review
A bright blue coloring for our hair requires a good product and not just any one. And for it to hold well, even in semi-permanence, but especially for it to be successful, opt for the right brand. Don't bother looking far anymore, "Manic Panic" is there and highly recommended in addition. If you want above all, a coloration evoking a vision of the sirens of the Caribbean Sea, this is the perfect dye for you.
Is Manic Panic recommended?
Without lying to you, at the very beginning I was afraid of the result. But after I rinsed my hair and styled it well, I would have regretted if I didn't take the Coloring Manic Panic Atomic turquoise. My hair has, moreover, become softer to the touch. And since then, I've never tireed of it.
Who uses the product?
Fashion professionals use Manic panic coloring. This explains the remarkable and sparkling allure of their work.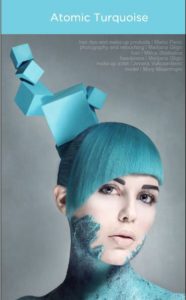 The professional photographer "CUT TEAM of Serbia" for example is an addict of the brand. They do not hesitate to apply Manic Panic on its models.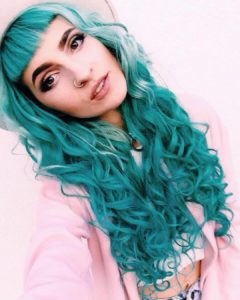 There is also the famous fashion blogger "Vintageena" who loves the turquoise Atomic for her hair. This color is frequently seen appearing in his photos posted on social networks.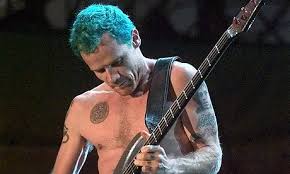 Atomic Turquoise has become the favorite coloring of Red Hot Chili Peppers bassist Flea.
Pros and cons
PROS
It's a vegan product
Powerful and tenacious colouring
Very convenient to use
Enough
Turquoise color that doesn't fool
40 years of existence
CONS
It stains hard and fast
Different effects for all hair types
High price for the quantity of the product
Who am I?
I am a hairdresser and I always use Manic Panic, when it comes to coloring especially for my clients who have a gothic style. And frankly, there was not a single customer dissatisfied with the result. Of course, perfect discoloration is on the call. For my part, I swim twice a week, and my coloring holds even up to 75E Day.
Manic Panic accompanies us on a daily basis
Closer to home thanks to its presence on existing social networks. On Facebook, likers are 220,511. Twitter followers reach 14,000 or more. Not to mention the 20,078 subscribers of his YouTube channel.
It's a vegan product
During its manufacture, the product is not tested on animals. Therefore, no animal will fall victim to this mark of coloring.
Powerful and tenacious colouring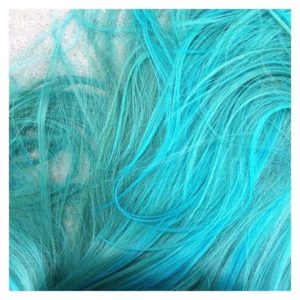 The most is that the coloring is 0% peroxides. That's what makes it work better. Especially for light-skinned hair. But, it also applies rather well on dark hair. I still recommend, as a professional, to discolor your hair before applying it. That way, the color will come out very bright.
As for the duration, the color persists even after several washes. Personally, it is the one that does not wash easily. It is more than 10 washes that it begins to take on a pastel hue. Everything you can expect from a semi-permanent color.
Very convenient to use
It is ready to use, that is, no longer worth mixing anything before using it.
A beautiful dough easy to apply, it does not float, does not flow and makes the texture evenly uniform. It also has no odour, so there is no risk of nausea during the application of the product.
Don't damage our hair
In fact, this product is not at all aggressive, on the contrary the hair comes out soft. It does not dry out or degrade the condition of our hair, a rare quality not found in other coloring brands. The colouring gives the delicacy and flexibility that our hair deserves.
More than enough
A pot is enough for a whole hair. Even for long hair that reaches up to the middle of the back. For hair above the shoulders, a box can be used twice in a row.
Turquoise color exactly as in the presentation photo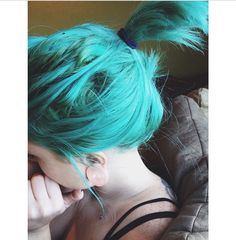 The turquoise color, in reality, is exactly like in the presentation photo. There is no fake in the photos. The turquoise hair on the models is without retouching. Especially, as a hairdresser by trade, I invite you to always fade before dyeing to get the purest form of color.
40 years of existence
The brand has been on the market since 1977. Its website has been in existence since 1997. The product is well guaranteed within 5 days on the date of receipt of the product. Also, it must be returned within 30 days on the date of the invoice. There is even customer service that can deal with product issues via the website. A self-help forum is also designed for the brand's consumers.
It stains hard and fast
The color is very tenacious. It takes a lot of precautions to take when you start applying. Otherwise, our skin and our tiles would be the victims. Indeed, we need strong gloves and old T-shirts to protect our skin. Also plan to cover your tiling with newspapers.
Different results for all hair types
Not everyone has the same hair color. Some types of hair do not take the color well. In fact, for some of my clients, the color only takes with a white base. For blonde hair, for example, the color does not give the turquoise color in the photos. But no matter your original hair color, I advise you to always discolor your hair 24 hours before application so that the color stands out flawlessly as in the photos.
High price for the quantity of the product
The product size is small. A larger pot is expected for the price. For only 118 ml, the price is a bit expensive.
Manic Panic Atomic turquoise VS Punky Color Lagoon blue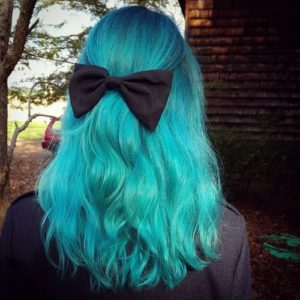 In terms of price, Manic Panic is cheaper than Punky Color. I did the math. For Manic Panic, the price of the ml is 0.0930 euros while for Punky Color the ml costs 0.0965. So whether the quantity is 100 ml or 118 ml, Manic Panic will always win the best price.
Manic Panic Atomic turquoise VS Artic Fox aquamarine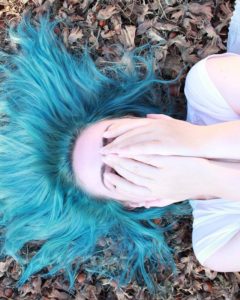 Both colours are both semi-permanent, are vegetable dyes and above all humane towards animals. But what differentiates the two brands is the practicality to use. The Manic Panic container is a cylindrical box, which makes it easier for the application because you no longer need to pour the product into any other content. On the other hand, the Arctic Fox container is a bottle, so you have to go to the trouble of pouring the coloring into a bowl in order to use it.
Manic Panic Atomic turquoise VS Crazy Color bubblegum blue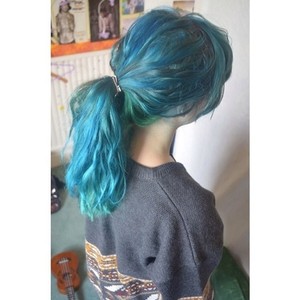 The Manic Panic quantity is more interesting, beneficial and economical. A Manic Panic pot 118ml at 11 is enough to color a rather long hair up to the middle of the back. For Crazy Color 100ml at 6.20 euros, we need to provide two pots for long hair.