PICKING THE PERFECT WIG
Cancer treatments, whether chemo or radiation therapy, can cause hair loss. To cope with it and regain their femininity, many women decide to wear a wig. So we thought you'd enjoy a little guide on this! Where to buy your wig? What are the prices? What aids are available? How do I put it on? We explain everything.
What are the different types of wigs?
There are two types of hair prostheses: wigs with synthetic hair, and those with natural hair. What will change between the two types of wigs are price, longevity, and ease of maintenance. A synthetic wig will be much easier to maintain and cheaper… but often less comfortable and less "realistic."
How much does a wig cost?
A wig is a pretty expensive accessory. However, its price varies according to several criteria: the material of the hair used as well as the design of the wig (was it handmade or mechanically mounted?).
As an indication, the prices of a synthetic wig range between 125 and 600 euros, while for a wig in natural hair it will take between 500 and several thousand euros if it was handmade and custom made.
More like natural hair or synthetic fibers for your wig?
Natural hair wigs are more expensive, but as the name suggests, they have a more natural look. However, they require greater care than other wigs. They need to be washed more often and fitness will be required after each shampoo. Just like you would with your real hair! Hair coloring may also be less durable, as this type of wig is more sensitive to oxidation.
A synthetic wig will be less restrictive in its maintenance, washes will be less frequent and no folding will be necessary. On the other hand, you will be forced to have a wig whose color will already be pre-established, impossible to color it afterwards.
It's up to you to choose which option you think is closest to your needs, your desires and… your budget.
What's your wig in charge of?
Social Security pays for a hair prosthesis (beware: it must be prescribed to you by your doctor) up to 125 euros (the cheapest of synthetic wigs), regardless of the amount you have paid. This assistance can be paid twice a year if necessary (which will eventually allow you to change it).
Your supplementary insurance can potentially reimburse you for an additional share, but the amount is very variable (their assistance can cover one to six times the help of The Health Insurance). We therefore advise you to check with your mutual before buying your wig, to find out how much they can give you in addition to the help of the Social Security and avoid any unpleasant surprises!
Beware, however, some resellers may not benefit from the third-party payment or Social Security, so we advise you to find out before going to the store.
Is it possible to benefit from aid or loans?
If the wig is too much of an investment for you, we advise you to check with the hospital's nurses and social workers. Indeed, they are often familiar with the possibilities of aid or loans, as well as shops that sell wigs at affordable prices or fully reimbursed by Social Security.
Hospitals sometimes have wigs (or other head accessories) left by former patients for you.
How do I put on a wig?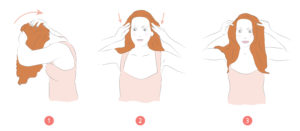 Putting on a wig can be a bit complex at first, even if the shop seller showed you how to do it.
Here are a few things to follow that might be helpful!
Upstream: First, shake your wig to ventilate it and give it some volume. You can also massage your scalp with our Scalp Mist so you can comfortably wear your wig for a long time and avoid any small itching! 😉
Step 1: Place it on your head by bringing it up on your skull back and forth. To make it simpler, lean forward ;). Your prosthesis will be in place when the top is four fingers away from your eyebrows!
Step 2: Make sure the support legs are properly placed on your temples. Put them down tightly.
Step 3: Don't hesitate to finish the pose by passing your fingers through your new hair to give them volume! Over-plated hair will lack a bit of naturalness.
Good to know: wearing the wig will not prevent the regrowth of your little hair after stopping treatments 😉
Where and when to buy his wig?
We advise you to choose your wig as soon as you know you're going to need one. And even before your hair fell out. What for? Because this way, you can choose a wig whose color is close to your color, or even your natural cut. Of course, it's up to you: this period can also be made "less difficult" by testing all kinds of haircuts and hair color.
Also, you don't have to go and choose your wig alone. Being with your husband, family member or friend is a good idea. They will help you keep your spirits up and help you choose a wig that will suit you best!
The first reflex is often to go to your hairdresser to find out. It's normal, he's the hair specialist in our entourage! So he can help you know where to buy a wig, how to choose it, etc! He may even have a few for sale.
Another key interlocutor in this important moment: the socio-hairdresser, who specializes in the problems of alopecia and wigs during the illness.
There are many shops specializing in the sale of wigs and it is surely among these that you will find the greatest choice. The advantage of these shops is that in most cases you will be able to get help from the seller. They will help you find out which type of prosthesis is best for you and will tell you about the prices.
We also advise you to make an appointment in these kinds of specialty shops. This will give the professional more time to give you and will be more attentive to you. The latter also sometimes offers to travel at home or in hospital if you can't get around (but find out beforehand about the price of the trip…).
You can also buy your wig elsewhere: online or by mail, or in pharmacies.
In stores engaged with the National Cancer Institute
The National Cancer Institute (INCa) has drawn up a list of shops committed to a number of criteria such as customer reception, product presentation or after-sales service. They established a whole charter of obligations of wig sellers. We therefore advise you to find out first about the shops they have referenced!
There is even a "point-of-sale map" that allows you to find a wig maker too far from home, anywhere in France. The "Charter Adherent" macaroon on their display case attests to their INCa referencing.
If you can't stand your wig
If you can't stand wearing your wig (which is understandable with the good weather and the heat), there are other solutions! You can turn to head accessories such as scarves, turbans and other bandanas. They will protect your head while being lighter than a wig.
Rose Water Spray 100% Pure, Natural Toner by Baja Basics For Skin, Hair and Aromatherapy
What to do with your wig after the treatments?
Your treatments are finished and you want to get rid of your wig? Be aware that other women will need it and they may not have a lot of money. So you can "recycle" your wig and make a happy by giving it to associations. Don't hesitate to check with the hospital or the wig maker who sold you your wig. They will surely know which associations exist in the area!
Maintenance
Let's brush it!
… Every night! You style your wig with a brush that is flexible enough not to assault it. This will remove a good part of the dust or other small particles that arrived here by chance… and have nothing to do there!
We never brush our wig all at once: we always go with the tips… to the roots. A special brush (in wild boar hair) can be used.
We're washing it!
Ideally, wash it about once every 15 days after having it untangled with a wide comb, or just with your fingers! But, like hair, it's also a matter of feeling: the call of the bath will be felt more or less quickly, depending on the time you have worn it, your exposure to pollution, bad smells, etc. To limit the number of washes and keep as new as possible, the trick is to wear a wig cap that you wash in the evening before going to bed.
Be careful to adapt the washing method to your wig, which can be made of synthetic fibers or natural fibers:
Wash our synthetic fiber wig:
If you can, you can invest in a "special wig" shampoo, but a classic soft shampoo will also do the trick. Our trick: rather than washing as we would for our own hair, we put a hazelnut of product directly in the fresh water of a bowl and splash: we dip our wig 10 to 15 minutes! Shaking it gently from time to time. We can even pamper our hair and offer it softness and shine by applying a treatment (after shampoo, regenerating balm …). It is then spread from roots to tips.
And then we go to rinse with a lot, a lot… a lot of application! Always in cold water and roots towards the tips! This is very important to prevent leftover products from damaging or burning our wig too much.
Then we move on to spin! For this, you wrap your wig in a towel and dab without rubbing to absorb the excess water. It is avoided at all costs to twist and bend it. Finally we can put our beautiful wig all clean on his wig holder, if we have one (otherwise, a shower head can also do the trick!). On the other hand, Styrofoam heads are avoided, which can cause mold.
In any case, it is allowed to dry in the open air. And if you're too impatient to put on your beautiful wig again, you can gently dab it with a sponge towel so it dries a little faster. Above all, we don't use a hairdryer! Despite our possible crazy desire to put our beautiful hair in order, we are absolutely waiting for it to be DRY… AND ARCHI DRY. The trick: shake it a little, to give it volume.
Namely: in terms of their shape, synthetic fiber wigs will return to their original appearance on their own. If our wig had beautiful curls, don't panic, they will reform on their own when drying!
Wash our natural fiber wig:
Best: drop it off at the seller for a professional cleaning… But you have to be willing to pay the cost (about 30-40 euros). Otherwise, it is done in exactly the same way as for a synthetic fiber wig, but this time using lukewarm water.
Then, a "brushing" will be essential to restore their look and shape (again, we wait until it is dry before starting). So, to our hairdressing skills! 😉
And until it dries?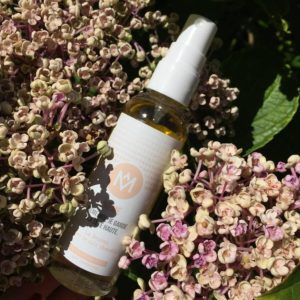 While waiting for your beautiful hair to dry, we give yourself a little pleasure by massaging our scalp. And with our little mist for the scalp to moisturize your skin assaulted by the treatments! In addition, massaging your scalp stimulates the bloodstream micro circulation, which mechanically promotes the regrowth of your precious hair! It has ONLY advantages 😍
The few enemies (completely forbidden!) of our wig
The gel, the hairsan, the colored bombs: they dirty it!
For synthetic fiber wigs: heated curlers, curling or smoothing iron: they burn it!
Storage side …
After wearing our wig, we let her breathe for a few hours, the cap outwards. But then, we put it away! Yes, our wig is a nest of dust and mites, so we must isolate it and protect it to a minimum.
The best way to keep the beautiful shape of our wig is of course the wig holder or a mannequin. Otherwise, you can also put it flat in its box.
Our latest tips
No swimming with, neither at the pool nor at the beach… It is replaced by a light scarf or a nice summer hat.
At night, we obviously remove it (because like us, our dear wig needs to rest) 🙂
We protect ourselves from sources of high heat, because they degrade it! Thus, we think about removing or protecting it when cooking and we avoid getting too close to a lighter, a candle, a barbecue, an oven, and even boiling water vapor…
Because our wig can be our most valuable ally to preserve its femininity when losing our hair, but also because it represents a real investment for everyone, it deserves all the attention possible!
It's up to us to take care of it and keep it as beautiful as possible! And above all, we are reassured: once our hair is ready to grow back, our dear wigs will not slow their growth;)
Final Tips
Tired of having to use the words "wig" or "prosthesis" when you want to talk about it in a public place? Don't hesitate to give it a little name, and why not funny as a bonus! "My hair," "my ruque-pe" in coded language upside down… Make your imagination work! This will save you from curious glances and will surely ensure you some complicit moments with your loved ones ;). Tested and validated!
Well, we hope this article has been useful to you and will help you dress your pretty head 😉