What are the Different Types of Hairbrushes?
There are many styles of hairbrushes, more or less suitable for a particular type of hair, and more or less effective at untangling.
Different forms of hairbrushes
First of all, there are different forms of hairbrushes. We have the flat brush, which can be either rectangular, oval or square; The round brush, used to brush with the hairdryer, and to smooth hair; and the spider brush, which allows to give volume to the hair and quickly dry the hair.
The different materials used
Then there are different materials:
For brush hair: wild boar hair is the most used because it allows brushing without pulling or damaging hair; but there are also nylon bristle brushes that are notably cheaper, or brushes that mix wild boar hair and nylon (so-called "mixed"). Some low-end brushes even have metal bristles, which is not recommended as very bad for your hair.
For brush pegs: often made of wood or nylon.
For the handle of the brush: often wood (bamboo, pear…), or plastic.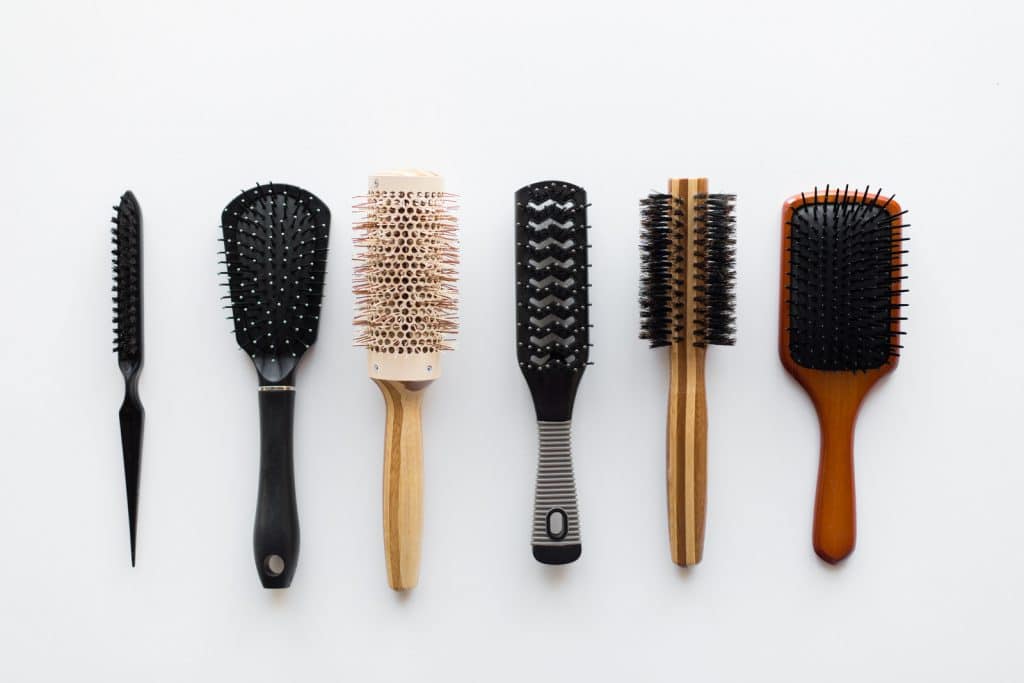 How to choose your brush based on your hair
It is important to choose your brush according to your hair, so that brushing does not damage your scalp or hair fiber.
For fine hair
People with fine hair will tend to be more sensitive to styling. A brush that is too hard can cause pain in the scalp. This is why the ideal way to brush fine hair is a brush with soft bristles, such as silk hair (the softest one can find), or at the very least wild boar hair.
Fine hair tends to tangle easily and should therefore be brushed often: it is essential to opt for a natural bristle brush to limit the weakening of your hair following frequent brushing. As for the shape of the brush, it is best to opt for a flat brush.
For thick hair
Thick hair, unlike fine hair, does not get tangled easily. To untangle them, a boar hair brush is ideal. Choose it large and oval or square so that it can easily brush your hair mass.
For smooth hair
The ideal brushes for styling smooth hair are the ones that will give them a little volume: the peg brushes (nylon, wood) are ideal.
For curly, curly or frizzy hair
When brushing curly hair, it is essential not to flatten the curls and to retain volume. Wild boar bristle brushes will work perfectly because they brush gently, without pulling curls and frizz.
For babies
For babies, the ideal is to choose the softest brush possible, in natural fibers (e.g. goat hair) and beaded pegs. This way you have no risk of irritating her sensitive scalp.
How do I find a hairbrush that doesn't hurt?
If you have fine hair or sensitive scalp, you will tend to have a sore scalp using a conventional brush. To avoid pain, you should choose a brush that does not pull the hair (in wild boar hair for example); with beaded pegs rather than simple pegs; and with soft pegs such as plastic. Air cushions on some brushes can also help reduce brushing pain.
How often do you use your brush?
One thing is for sure: too much brushing is bad for their health. In addition, brushing stimulates scalp oils and may, if it is too common, cause an excess of sebum.
However, it is important to brush your hair daily or twice a day (once in the morning and once in the evening before bedtime) to get shiny, silky hair. You will be able to rid your hair of the knots and external impurities accumulated during the day or night.
How to prepare your hair for brushing
First of all, you should know that as a general rule, it is best to avoid using your brush on wet or wet hair. It is best to use a comb to untangle your hair after shampooing or masking, or straight out of the shower.
Then, it is also important to respect a progressivity in your brushing: upside down, brush your hair from the nape of the neck to the forehead, and from the temples to the top of your head. Then gently brush your hair up and down, section by section, without overemphasizing the roots so as not to grease your hair.
How to maintain your brush
It is important to maintain your brush if you want it to maintain its quality for a long time. The first thing to do is to regularly remove hair or dirt attached to the brush (using a comb or a small brush made for this purpose, often sold with the hairbrush).
It is then necessary to wash your hairbrush about once a month,in order to remove oils, products, dust and other external impurities. To do this, use lukewarm water and a hazelnut shampoo,rubbing with an old toothbrush the space between the hairs, or soak it in a small basin of hot water and baking soda.
How to choose your hairbrush
What criteria should be taken into account?
As you can see, it is very important to choose your hairbrush. The criteria to consider are:
The length of your hair: the longer your hair, the bigger your brush will have to be, regardless of the type of brush used.
The thickness of your hair: fine hair is more sensitive and will therefore be more comfortable with a flat and flexible brush; while spider brushes with hard hairs and pegs will suit thick hair.
Your hair type: If your hair tends to grease easily, you won't use the same type of brush as if you have dry, brittle hair.
The brand: if you are attached to a brand, it may be good to continue to buy its products because your hair is already used to it.
The price: depending on the brand, composition, or type of brush, the price will be more or less high. It's up to you to see the budget you want to spend on it.
How to find the best hairbrush?
Hair brushing is often overlooked by both womenand men, and yet it is an essential gesture to perform on a daily basis if you want to maintain shiny, silky and healthy hair.
But be careful, brushing your hair should not be done randomly or quickly: for brushing to be beneficial for your hair, you must have good quality accessories tailored to your hair type.
In this article, we present the best hairbrushes we've been able to test for you, to help you choose a hairbrush tailored to your needs and hair type.
We've tested different types of hairbrushes for you
---
Mason Pearson Schwarzrubin Handy Mixed: The best 12-row mixed brush
Mason Pearson Handy HairBrush Mixed Bristle and…
Quality product
Uncompromising quality.
Hair protection thanks to its cushioning air.
Our review:

Mason Pearson's "Handy Mixte" brush (Schwarzrubin series) is one of the best mixed hairbrushes on the market. It is made up of fine wild boar hair and nylon pegs,and its finish ensures easy styling without the risk of breakage. Its cushion cushioning air helps protect hair and scalp when brushing, and your hair will remain disciplined, silky and shiny. This brush has 12 rows.
We recommend this brush for people with thick hair as the hardness of the hairs and pimples can be painful for sensitive scalps.
---
Highness 8911: Mixed 11-row brush
Highness – Brush with Boar Hair and Picots…
Great hairbrush detangling model for thick hair with hair of…
Wild boar hair also limits static electricity.
Our opinion:

The Altesse 8911 brush is just as powerful as Mason Pearson's "Handy Mixte" brush: it's also made with wild boar hair and nylon pegs, and features an air cushion to protect the scalp when brushing.
Wild boar hair is hard enough to massage the scalp without irritating it, and it gives volume to the hair. The difference from Mason Pearson's brush is that it is only 11 rows long. The downside: nylon pegs do not have protective balls. The little plus: it is made in France.
---
Ineffable Care: The best cheap curved spider brush
BROSSE TO CHEVEUX IN SANGLIER POILS – Wild boar hairs promote…
BROSSE TO DEGLEOLE- Nylon hairs help to untangle…
BROSSE-SPIDER FOR SER-CHEVEUX: This hairbrush lets…
Our review:

Ineffable Care's boar hairbrush is one of the best boar hairbrushes we've tested. This is an airy curved spider brush of professional quality, ideal for styling your hair with hairdryer.
Wild boar hair is ideal for styling and detangling any type of hair (long or short, thick and curly or fine…), and their hardness stimulates scalp oils, making your hair more supple, shiny and silky.
Its size and flexibility allows for a large styling area, and it is suitable for both women and men. It is used on dry hair, from root to tip, wick by strand. Be careful, if you have thick, curly hair, it is advisable to comb lightly with a comb before brushing.
---
Marbeian: The best detangling brush
Bamboo Hair Brush in Boar Hair With…
BRUSH HAS HAIR DETANGLING INTO WILD BOAR HAIR AND NYLON RODS – FOR…
INCLUS is a wooden hair comb and hair cleaning tool! Enjoy…
PERFECT FOR DAMP OR DRY HAIR. Whether you want to untangle your hair before or…
Our opinion:

Marbeian's bamboo handle and wild boar hair is arguably the most effective brush for untangling hair.
It consists of wild boar hair and nylon rods to ensure easy styling, safe and stimulating the scalp. The result is shiny, silky, smooth and healthy hair. It is suitable for all hair types.
It is sold with a soft wood comb for sensitive scalps and a small cleaning brush to remove the hair from the brush without damaging it. All this will make you a durable and environmentally friendly styling kit!
---
Tangle Teezer The Original Blueberry Pop: AntistaticDetticing B
Tangle Teezer Brush Detangling The Original Blueberry…
TANGLE TEEZER is the revolutionary brush for professional detangling. It's…
It is used on all types of hair, curly hair, curly, frizzy, on…
Thanks to the unique configuration of her pegs she will untangle and style while…
Our opinion:

Tangle Teezer's The Original Blueberry Pop detangler brush is also a very good detangling brush. With its original and playful design, it allows you to untangle professionally, without damaging the hair, regardless of your hair type.
Even for fine or fragile hair, it is perfectly suitable, since it gently styles without pulling the hair and massages your scalp. It can be used on dry but also wet hair in the shower. Its antistatic properties make it your ally for a top hairstyle.
---
Olivia Garden Ceramic: The best thermal brush for drying
Olivia garden ceramic – ion round thermal brush…
Tourmaline-Ion Technology: Reduces static electricity on hair, The…
Nylon Hairs: Antistatic and Loaded in Ions for Smooth and Brilliant Hair
The must of brushing.
Our review:

Olivia Garden's Ceramic -Ion thermal brush is one of the best thermal brushes to make a hairdryer brushing without damaging your hair.
Tourmaline-Ion technology (nylon hairs are ionized) reduces static electricity and guarantees smooth, shiny hair. The ceramic barrel allows the heat to be better distributed on the brush during drying and thus to make more precise and effective brushings. It is ideal for frequent drying because it keeps hair healthy. The little plus: the handle is nice and non-slip.
---
Anpro: The best brush for straight hair
Anpro 2PCS Hairbrushes Crepe Brush…
❀BROSSE UNISEXE:Perfect to help you untangle your hair…
❀ SAFE FOOD: ABS ecologist matter – TPEE, free of toxic and teeth…
❀ INDISPENSABLE: It is a dispensable tool to untangle the wig, and…
Our opinion:

The batch of two Anpro hairbrushes is ideal for people who have straight hair and sensitive scalp. Whether on dry, wet or product-coated hair (shampoo or mask), it untangles perfectly and keeps hair healthy.
It is composed of ecological and non-toxic materials (ABS – TPEE) and its peaks are flexible to style effectively without being painful to the scalp.
This brush is suitable for women, men and children, and comes with a batch of pliers and elastics to style you.
---
KulturGUT Shop: Extra-soft brush made of natural baby materials
Baby – Natural hairbrush with…
Baby hairbrush
pear wood
natural hairs
Our opinion:

This brush is a very soft brush, made of oiled pear wood and natural goat hair, manufactured in Germany with local raw materials. It's the perfect brush for babies and their sensitive scalp.
Be careful though: if your baby already has long hair or very tangled hair, this brush will not be effective! It will be used above all to style your baby in the first few months.
In conclusion
Choosing the right hairbrush is tricky: the stakes are high as you will have to use it daily. A good hairbrush, suitable for your hair type, will guarantee you a silky, shiny and healthy hair!
Our selection of the best hairbrushes can help you choose from the many existing models on the market.